Remote working in Financial Services used to be uncommon. However recent events have accelerated the global trend towards flexible working. We are now seeing a paradigm shift towards working from home that is, in some cases, driven by the employees themselves.
 We collaborated with business and technology consultant GreySpark on a look into how the recent widespread need for remote working has created serious compliance challenges and how technology can address the issues arising around surveillance. To view the article, please click here.
Remote working is not something new
In fact, it pre-dates the Industrial Revolution. Before then, skilled workers used to set-up shop at their homes of residence and sell their goods from there but as commercial industry evolved, so did the need for automation, large factories and large-scale productions that had to be housed in designated "office spaces".
However, the current global pandemic has been a catalyst for change in industries across the globe and now it's the turn of the workers to demand lasting reform of remote working policies and business continuity plans. In line with this cultural shift, EU and UK lawmakers are ensuring that blanket bans on flexible working are no longer legal, mandating a strong business justification to refuse an employees request for more flexible working arrangements.

Increased compliance challenges for financial Institutions
While company infrastructure has had to adapt rapidly, shortages of laptops and outages in mobile service were just some of the immediate issues facing firms. There have also been clear concerns over the increased risk of insider trading and market abuse as financial organizations struggle to adapt to the newfound freedoms of the staff they monitor, leaving compliance teams frazzled.
However, we haven't yet seen firms change their surveillance methods dramatically, if so, they are the exception to the rule. Compliance-by-policy that previously banned communication methods now being relied on daily by their remote workforce is an example of where existing controls are simply not fit for purpose.
Employees are moving away from office-based working
From managing a remote team to pandemic parenting, both companies and their employees have had to learn to adapt and the truth is that most people are enjoying the experience. While, it's generally acknowledged that working from home full-time can be more socially isolating, more and more people are warming to a more flexible arrangements with their employer.
We hear from Accenture that 46% of people who were office based previously now plan to work from home more often in the future. In the markets, hedge funds are also defending their right to remote work with some saying they may even consider relocating to firms that do offer this flexibility.
New Technology to Address Compliance-by-Policy Inadequacies 
As Regulators are just as apt to pursue non-compliance as they ever were, it's more urgent than ever for firms to re-evaluate their approach.
Shelley Hoppe at Spoon Agency London recommends the finance sector get the right tools in place for both strengthening social bonds and to keep learning as digitisation and globalization has meant that our day-to-day business activities can now be done from anywhere.
From a market's standpoint, traders have been using WhatsApp to transact for some time now and this broker firm saw relatively no impact on its daily business during the pandemic, thanks to having the right infrastructure in place to adapt quickly.
With the right technology in place to allow a compliant "work-from-anywhere" approach, firms will be in a healthy position to confront any potential second wave but most importantly future-proof their surveillance and communications infrastructure against the permanent shift towards more flexible working.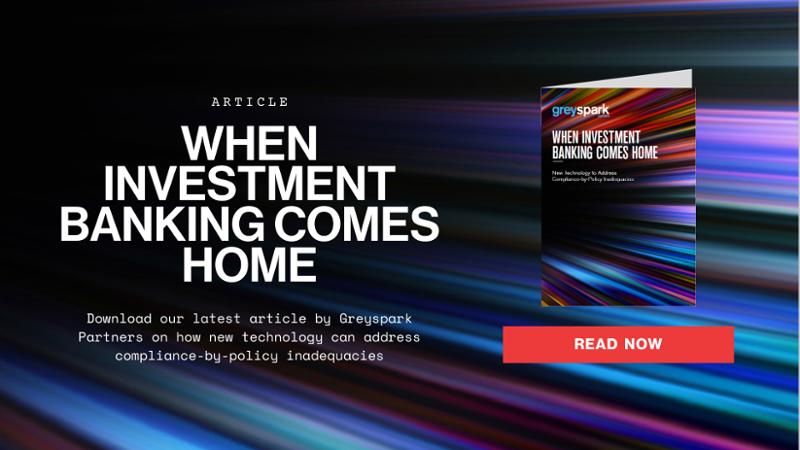 If your liked this article you might also find these interesting: